Description
This kit provides a method for purification of cellular RNA from fresh whole blood.
The REAL BLOOD RNA Kit simplifies isolation of RNA from blood with a fast spin-column procedure.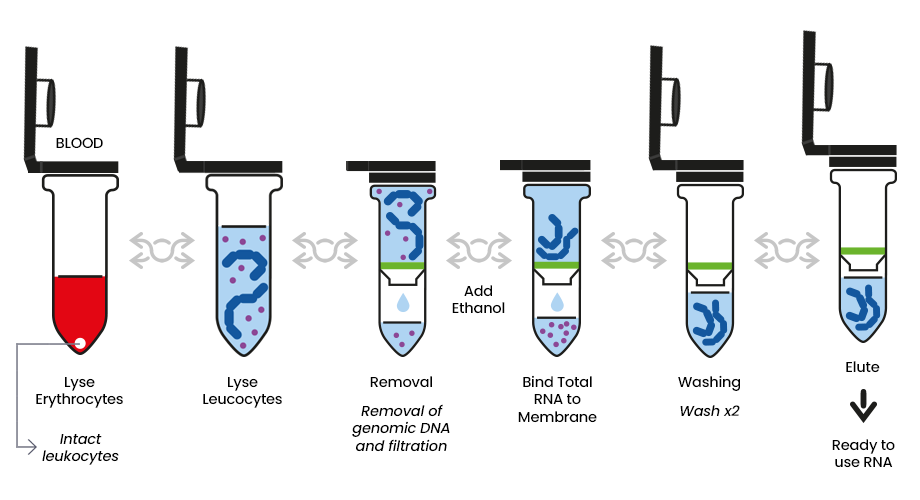 Red blood cells are selectively lysed and white cells collected by centrifugation. White cells are then lysed using highly denaturing conditions which immediately inactivate RNases. Using a gDNA Removal Column ,this Mini spin column removes quickly and efficiently the most genomic DNA without the need of DNase digestion.
After the sample is applied to the RNA Spin column. Total RNA binds to the membrane and contaminants are washed away, leaving pure RNA to be eluted in 30–100 µl RNase-free water (provided with the kit) for direct use in any downstream application.
Specifications:
• Rapid purification of high-quality, ready-to-use RNA from blood samples.
• Silica membrane column technology.
• Convenient handling – lysate clearing and gDNA removal with one column in one step.
• Sample Material: 300 µl of whole blood; up to 1.5 ml with erythrocyte lysis.
• No phenol/chloroform extraction, no CsCl gradients, no LiCl or ethanol precipitation.
Applications:
• RNA isolation from up to 1.5 ml of fresh, whole human blood stabilized with any common anticoagulant, such as citrate or EDTA.
• RNA is ready for downstream applications such as RT-PCR, Northern Blotting, Primer Extension, mRNA Selection, cDNA Synthesis, RNase Protection Assay.
| | | |
| --- | --- | --- |
| Reference | Product Description | Preps |
| RBMER24 | REAL BLOOD RNA Kit | 100 |
| RBMER25 | REAL BLOOD RNA Kit | 500 |